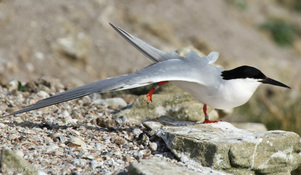 Coquet Island, about a mile off the Northumberland coast, is home to internationally important seabird species, including the UKs rarest nesting seabird – the Roseate Tern!
Although Coquet is the only UK colony of roseate terns, The LIFE project aims to reverse this and is supporting many historic and possible new colonies around the UK. It is hoped that this extra support will lead to the re-colonisation of this enigmatic tern.
There is no public landings are permitted on the island; protecting its fragile habitats and special seabirds. However, as of 21st May 2016, the island is linked to the mainland through live camera feeds.
In the last month these cameras have revealed some amazing secrets from within the colony so far – with courtship displays, scraps, dancing and more.
In 2014, Coquet Island had 93 nesting pairs, however last year in 2015 they had a spectacular 111 breeding Roseate tern pairs.
Fingers crossed that the Rosys' fortunes continue to improve in 2016 – check out how they are getting on at
www.rspb.org.uk/coquetlive
.
Alternatively you can find the link on our website COQUET LIVE page.
Information provided Coquet Warden: Wesley Davies