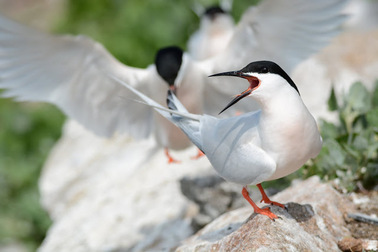 Located 7km off the County Dublin coast, the island of Rockabill is an internationally important site for Roseate Terns since it supports over 80% of its north-west European population
!!
It also supports other important and stunning breeding seabirds including common tern, Arctic tern, kittiwake and black guillemot.
The island is managed by
BirdWatch Ireland
and no landing is permitted in order to limit disturbance to these sensitive nesting birds. There is a small team of dedicated wardens who live on the island monitoring these seabirds for the entire breeding season.
Recently they have just completed their full nest census which took two days to completed! This meant checking out all the nest boxes including nooks and crannies for nesting pairs and eggs.
"Their hard work has paid off with a fantastic count total of
1,556 Roseate Tern nests on Rockabill
which is increase of over 150 nests from last year. Such a big increase further cements Rockabill's status as the largest Roseate Tern colony in Europe and is down to a lot of hard work from all of the wardens and Birdwatch Ireland staff who have worked here over the years."
"Around
700 of those 1556 nests are in nestboxes
, again proving their value and importance to the species continued growth. We got around 100 new nestboxes this year thanks to funding from the EU LIFE project, and will hopefully continue to add more and more in the coming years."
All this information is from their regularly updated
'Rockablog'
which will enthrall you with the tales of these stunning birds - check it out!
http://rockabillterns.blogspot.co.uk/2016/06/rockabill-roseate-tern-count-2016.html