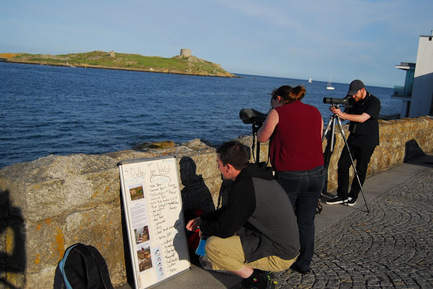 One of the recent 'Rockablog' posts was written by
Andrew Butler
, who is the
Dalkey Island warden
.
Dalkey Island is located approximately 400m off Sorrento Point on the County Dublin mainland.
To the north of Dalkey Island lie two small islands, one with some vegetation and one just bare rock; known as Lamb Island and Maiden Rock.
The islands are home to three species of tern: Common, Arctic and Roseate.
This site is one of the only three known sites in the Republic of Ireland where roseate terns have nested in recent years although their attempts here have been quite intermittent. However it is also an important roosting location for roseate terns before they migrate south for winter.
As a result there is on-going conservation work that is trying to encourage roseate terns to use and colonize this site as nesting area.
"
This season for the first time since the late 1990's we have 32 roseate tern nest boxes on Lamb and 7 on Maidens', it is also the first time there has been an employed Warden for the islands since the late 1990's. The new warden and nest boxes are in place thanks to the support of the Roseate Tern EU LIFE Programme, Dun Laoghaire & Rathdown County Council and of course BirdWatch Ireland who run the project."
"As well as the nest boxes we have also placed some gravel in the depressions in the rock as nesting substrate, to make the site as attractive as possible to terns looking to breed, especially Roseate Terns."
In addition the warden has also been holding a Dalkey Tern Watch every Tuesday evening at the pier at Collimore Harbour, pointing out the various breeding birds, raising the awareness about human disturbance and updating the public about the how the season is overall going!
Click here for the Full Story about how they prepared the sites and the other public engaging activities they've done:
http://rockabillterns.blogspot.co.uk/2016/06/guest-blog-dalkey-terns.html